September Snapshots
I think there's been some sort of mistake on the calendar, we can't be in October already can we? I woke up this morning and felt a little sick when I saw that big fat 1 glaring back at me from the calendar. It's officially 30 days until my major project is due for uni, which will see my second month of hibernation come into effect. September was a bit of a snooze-fest in terms of what we did - no trips away, no visits with favourite people, it was all work and (hardly any) play.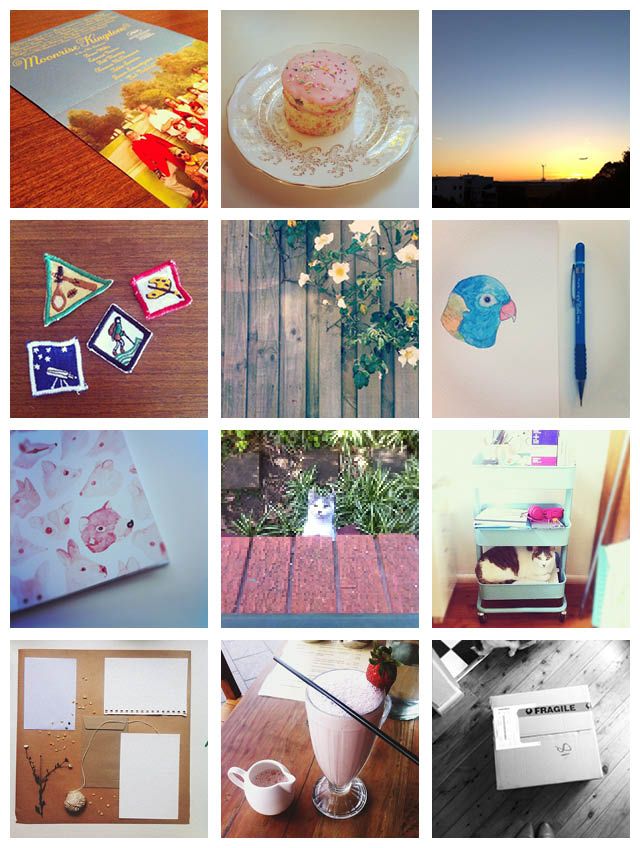 Here's a little roundup!
- Saw Moonrise Kingdom, first time we'd been to the cinema in AGES and it was the perfect film to break our fast with. Perfect Wes Anderson, I think it's outranked Rushmore as my favourite Wes film.
- Procrastibaking. The start of the month was particularly tricky to get into good work routines, and I spent way too long making funfetti mini-tiered cakes for Joshua to take to work.
- A sunset picnic date after work on Sunday. Ladies, I married a good one!
- Prop collecting for photoshoots at home
- Afternoon leg stretches to see how Spring has sprung around our neighbourhood. My three thirty-itis kicks in and I have to leave the house before I become a madwoman.
- Working away on little faces
- Little faces back from a test print! (It will all be unveiled soon!)
- Another face that pops up around our house, Susan wanting to break in through our bathroom
- And her new favourite place to nap. It's the perfect cat sized space, I can't blame her.
- Saturday styling sessions, building book pages
- Breakfast midweek, a smoothie with a side of smoothie. Genius!
- Exciting deliveries to use with my project (and a handy box for Susan to sit on).