Open House 2011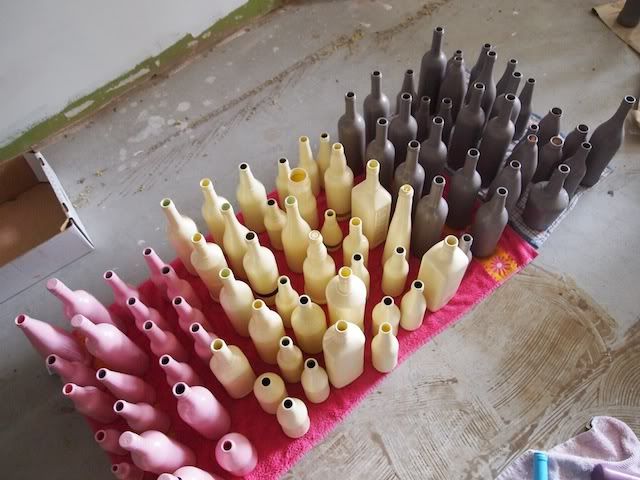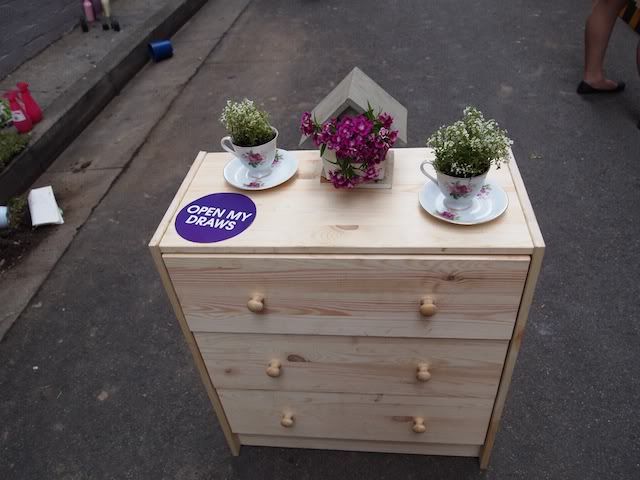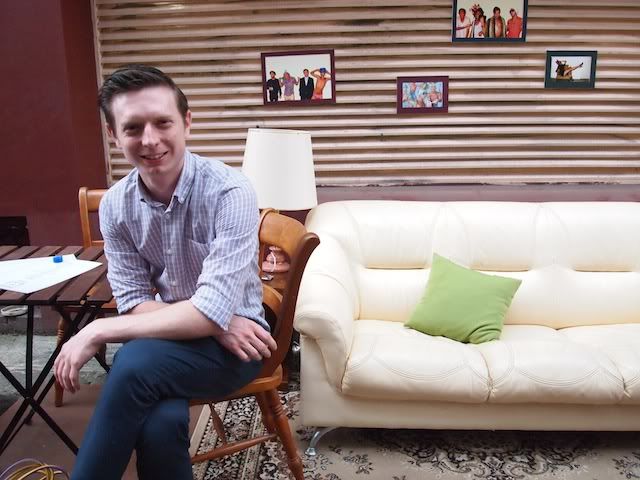 My, what a big week this week has been! Tuesday was spent preparing, sorting, organising and precariously placing all of our pieces for our exhibition Open House. We spent all day setting up Foley Street, with the 5 different groups involved all showcasing what they'd spent this semester working on. At 5.45pm these clouds rolled in...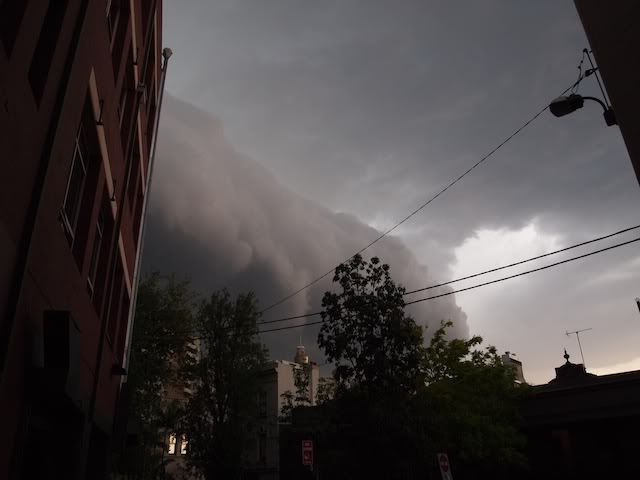 After that it was ridiculously heavy rain for a good half an hour, a little break for twenty minutes, and then another downpour. A little dampening on the spirits after planning for so many months, and really unfortunate for some of the pieces that weren't very rain friendly. Our painted bottles were fairly adaptable, and thankfully we had access to an indoor site that allowed for us to set up lighting without fear of electrocution. Our outdoor bottles ended up with a nice glow to them, the pastels seeming brighter amidst the grey weather. We had 2 lovely gentlemen particularly interested in our showings, they even took a bottle home with them as a souvenir.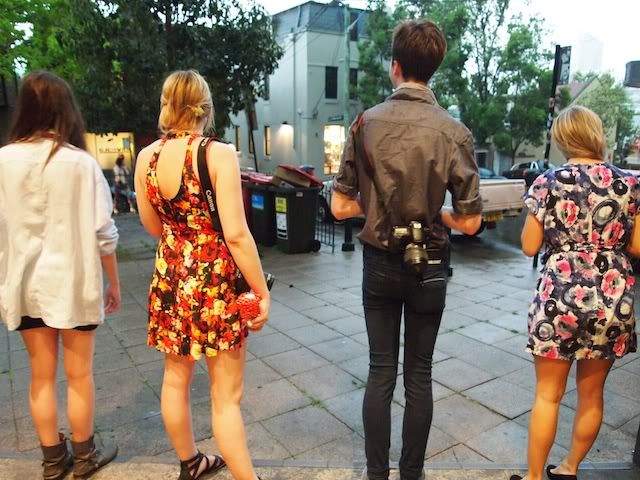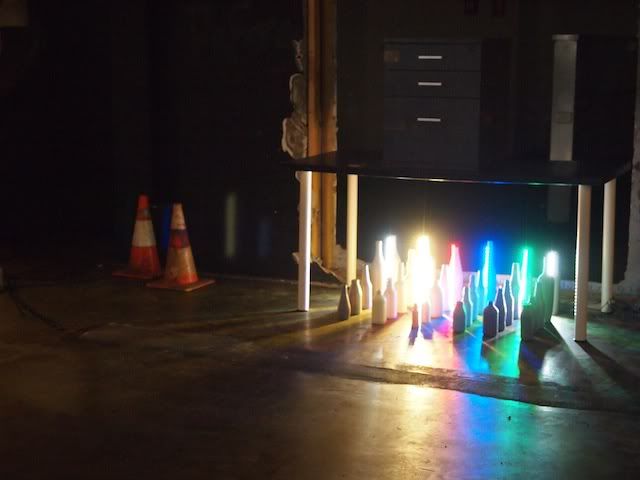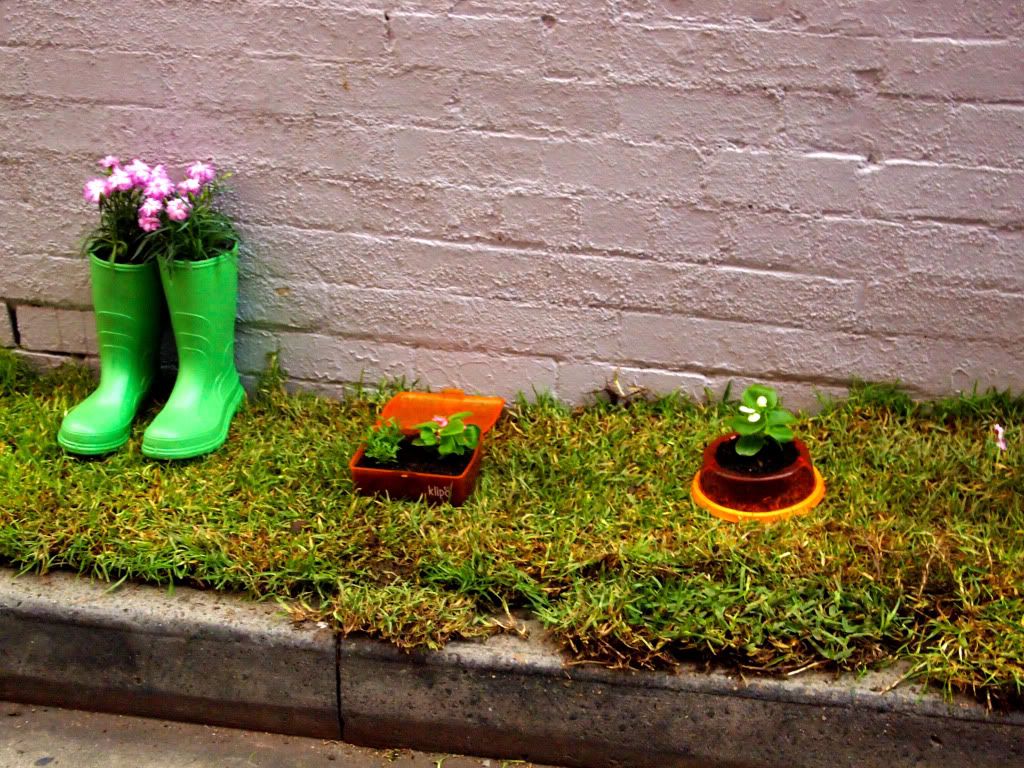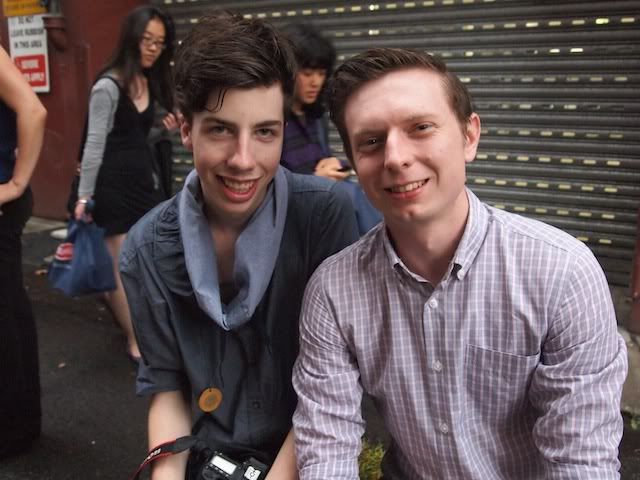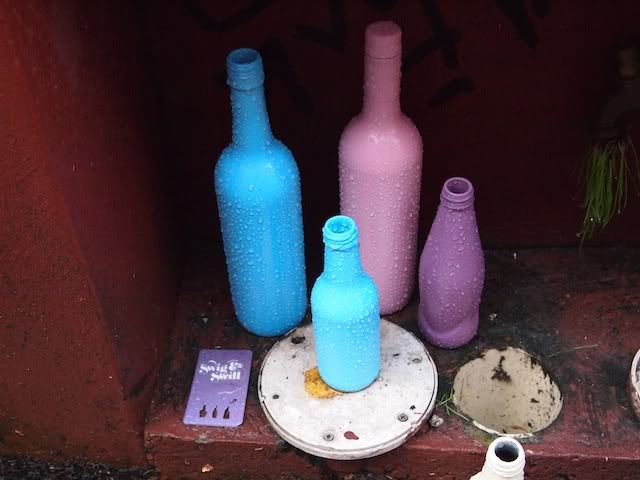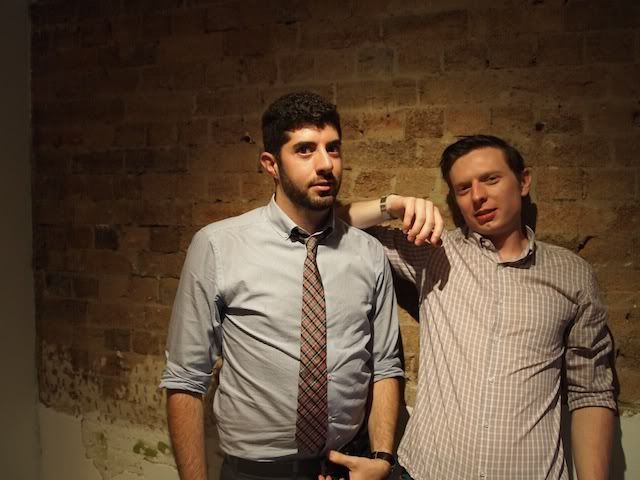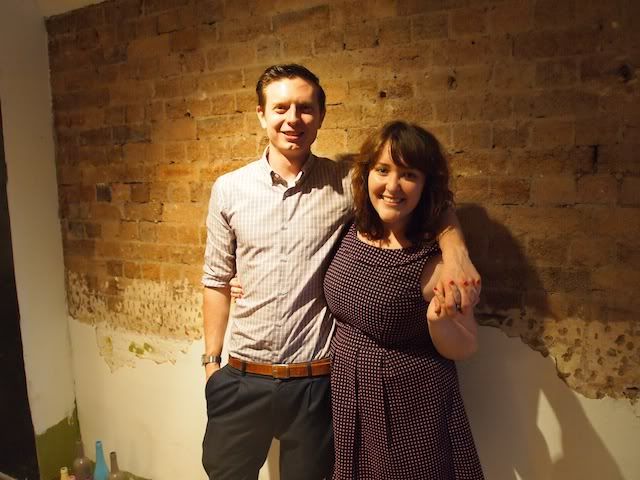 We had quite the nice turnout despite the miserable weather. Thanks to everyone that came along - especially dear Loukas who has been the most supportive of my artistic endeavours (rain hail and shine) and my Joshua who helped out all day with setting up, picking up and chauffeuring our rain soaked friends back to their homes so we could all avoid public transport.
For a full reflection on the event, please continue after the jump
The Situation has been both a wonderful experience and a rewarding challenge. Through the realisation of our intervention and the growth of our ideas, the group that I was a part of, Swig & Swill, were able to effectively communicate our ideas and have a profound (albeit seemingly quiet) impact on the audience that took part in the pop-up intervention.
The art pieces that my group, Swig & Swill, exhibited were carefully treated glass bottles taken from their environment as rubbish on the street, painted, and then placed back into their environment in a more considered fashion. Through this artwork we explored the ideas of the streets of Darlinghurst and the many and varied characters they attract, the cultural melting pot that this area of Sydney is, and also what brings all of these people together. Using the bottles as our medium we demonstrated that art has the capacity to attract an audience to its environment – we then reflected this environment, taking the objects out of the gallery and back to the street from which they came.
The art intervention of Swig & Swill worked quite well alongside the works of our peers. Our bottles were integrated throughout the street, stretching from one end to the other and being scattered in various clumps, lit in particular ways and taking the audience on a type of exploratory journey as they moved along the street. Our work seemed to have a nice juxtaposition to the other groups, as our scale was so small and our media quite different to the other groups. Our work was dispersed throughout Foley Street, rather than concentrated into one small space. This made the works overall feel more cohesive and brought together as an entire pop-up exhibition, rather than segmented art pieces by 5 different groups.
The model for our social interaction through our groups work was to have a strong focussing on bring the art gallery to the outdoors, reflecting the street and the people and the culture of drinking as a means of socialisation in Darlinghurst. We highlighted a social interaction between people and encouraged this, the bottles being a small and recognisable token of what most people can relate to just by thinking back to their previous weekend.
Using a small scale recycling system en masse, meant that there was no infrastructure to have approved. We essentially were taking rubbish that is unavoidable and on almost every street, and sprucing it up, and putting it back into its environment. Because of this method of work, we did not need engineering reports for large scale constructions, and our work was all placed safely out of harms way. The stakeholders such as people who live in the surrounding areas and businesses nearby could have felt affected if we had left the bottles in the area, but all were collected after the night.
Our stages of conceptualisation moved from an originally planned large scale work incorporating infrastructure such as scaffolding and doors to a much smaller and better refined work of our bottles. Using the bottles allowed for a more intimate response, giving the feeling of a secret, of hidden treasures throughout the street, and providing a sort of challenge for the audience to actively seek out the bottles and enjoy them in their environment.
We refined our work from all rubbish types in general back to just bottles, and then from bottles to just glass drinking bottles. This came about through some testing of what methods worked best to treat the bottles (enamel on glass has a lovely smooth finish), and also through what it could add to the work. The glass adds a fragility to the artwork as a whole, being something that needs to be treated with care and displayed accordingly. Although the bottles were just beer bottles in fancy dress, the way they were treated meant that people took a lot more care and interest in them as they explored the work.
Our conceptualisation continued to grow – the addition of lighting being a key development that I believe aided the work to be even more special. Using lighting from within the bottles meant that we were able to reflect the way Darlinghurst changes in the late afternoon, and 'comes to life' in the evening. The lights acted a soft reminder of the bottles existence, and allowed for some of the smaller components to be found later in the night as the audience realised that there were more pieces than they had originally found.
In our pre-production we tested various types of paints and sprays onto the bottles. After this experimentation we decided that enamel spray paint would give the most effective finish for what we needed and also allowed for colour variances with the same paint finish. We decided on a colour palette based of the colours of Foley Street and surrounds, a very heritage, dark palette of berries and creams and dark greys. Collecting a variety of bottles gave an eclecticism to the work, adding interest and demonstrating the differences in people that are seen throughout the area all the time. We did change our number of bottles per person that we were in charge of collecting and painting – deciding that we needed more bottles so as to have more of an impact in the area without getting lost in the nooks and crannies of Foley Street and the large scale works of the other 4 groups. We tested various modes of lighting for the bottles as well – originally choosing a small spotlight that we thought would work, but wasn't quite right. Doing some more research we found a connection to high-power glow sticks and LED strip lighting that lasted through the night and had a nicer ambience to them after all.
The event overall had a positive response, despite the downpour that happened several times throughout the night. We set up in a warm and sunny day, and then soon before our opening the storm rolled in! Despite all of this, stakeholders requirements were met, ranging from Shady Pines bar being involved and having business generated for them (albeit a little less than they would have originally hoped for), there was no conflict from council or police regarding the safety of the structures etc. Looking at myself as a stakeholder in the event, and my group members as stakeholders also, I believe our requirements were met, in that we were able to challenge the ideas of art and what people expect it to be, explore new surrounds and showcase our work to the people of Darlinghurst that in the end was effectively modelled after the people of Darlinghurst. The rain perhaps worked to Swig & Swill's advantage in a way, as our bottles had a sort of glow to them, their bright colours becoming more visible in the gloomy weather. Having access to an undercover space meant we were able to set up the bottles that incorporated electrical powered lighting and encourage people to move both indoors and outdoors, further demonstrating our juxtaposition of gallery and street, and how these two environments can react together.