Obviously, I Said "Yes!"
Now that most of the family and friends who needed to know in person have been informed, I can happily share with all of you lovely folk that Joshua and I are engaged! Hurrah!
On Wednesday evening we had a little 'Christmas dinner date' planned. It was meant to be a fairly low key type of occasion, with Italian at our favourite restaurant in The Rocks and a little stroll around Circular Quay later in the evening. I had wanted to see a movie as well, but Joshua had nonchalantly said "Let's skip the movie and just watch the sun set. I don't want to have to stress about getting anywhere on time, let's just be together".
We ate dinner and wandered down to the harbour for ice cream cones. Joshua seemed particularly annoyed that we didn't get a seat at the waters edge, but after a little bit of water gazing a bench freed up and we skipped along to nab it before it was sharked again.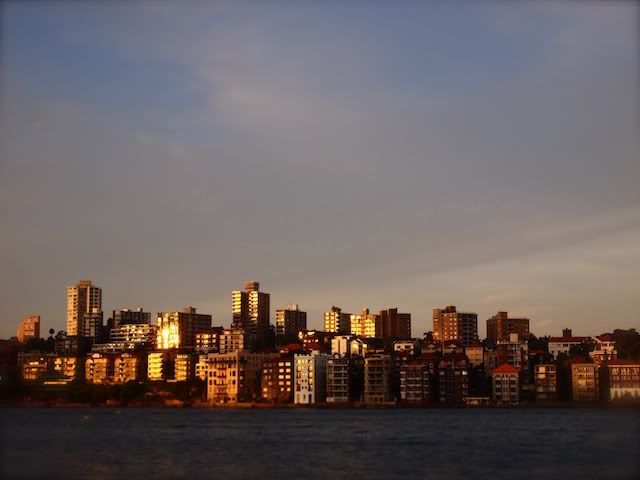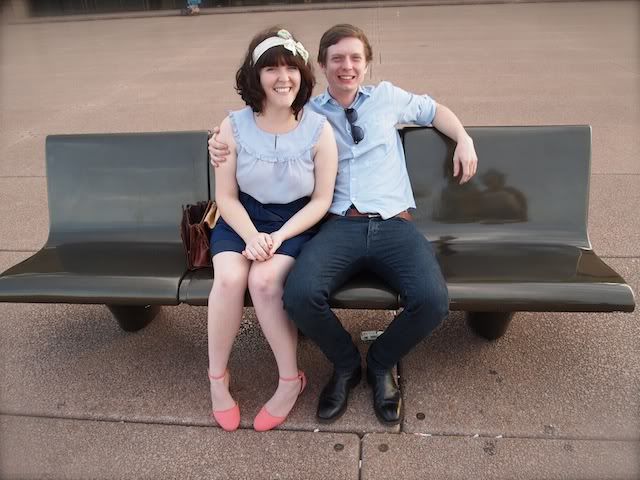 I had written Joshua a love letter of sorts for the evening since we were celebrating a little anniversary, and because letters are always nice! After reading the note Joshua started getting a little antsy. It was around this point that I started to get a wee bit suspicious that something exciting was going to happen!
A group of people in Christmas hats came over to where we were sitting and asked a lot of bizarre questions - very full of Christmas cheer (and probably a few cheeky cocktails).
"Are you lovers or marrieds?"
"Erm. Not married..."
"Are you engaged then?"
"Not... yet..."
They also told me I was pretty and asked if I was British, and took a few photos of us.
Delightfully odd - I did wonder if it was just a little too bizarre to be a coincidence.
We sat for a little longer watching the sunset and mostly whispering sweet nothings. Joshua kept switching between looking at his watch and craning his neck to see around the corner. All of a sudden he had my hand and was asking me to come closer to the edge of the water. A boat had come close to the front of the Opera House, and on it were our good friends Huw and Loukas, holding an enormous sign and giant helium balloons.
The sign said 'To my dear Megan, will you marry me?'. In true design-wanker form, the first thing I said was a tearful "You even set it in Neutra!".
Then my Joshua was down on one knee holding a b-e-a-utiful ring while I flapped about excitedly and squealed out "yes!". The captain of the boat asked if it was a yes, I think I waved or indicated with a thumbs up or something else which in hindsight I'm sure could have been more elegant. I tried to take a photo of the boat and the sign before it sped away, but the quality isn't so great.
Huw called out from the water to turn around - the top level of the Opera House must have been in the middle of a function - and there were a hundred odd spectators all waving and cheering. It all felt a little movie-esque!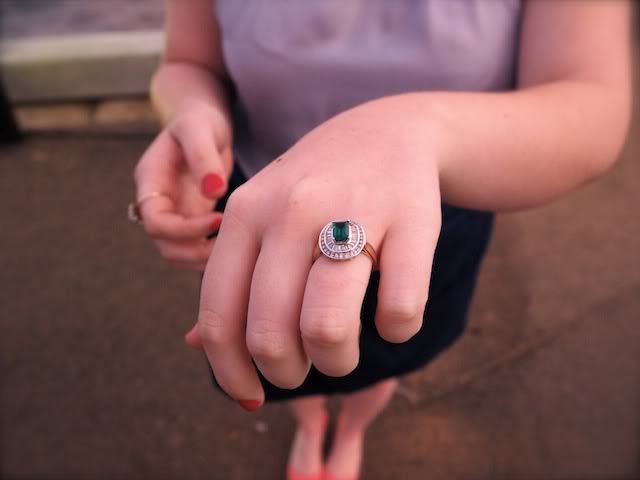 How could I have said anything but yes with a ring like that?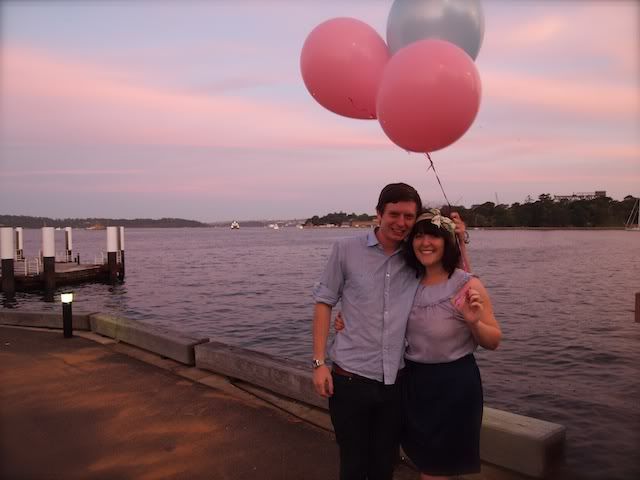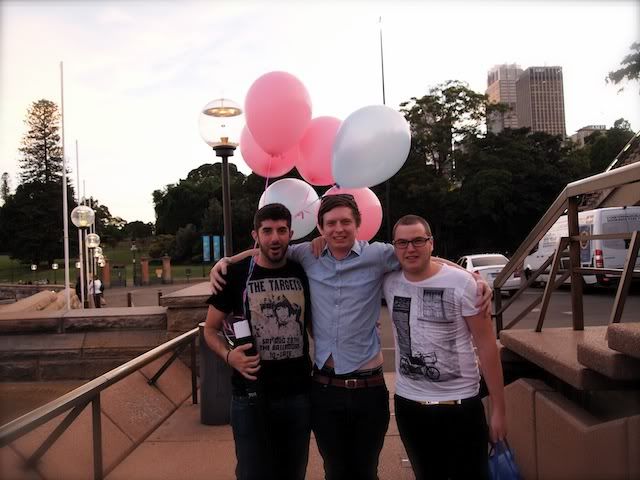 In exciting moments like 'hey we just got engaged' common sense like 'illegal to drink in public places' get forgotten and we were shuffled away from the Opera House. The security guard sent us up some stairs to a grassy little reserve that looked over the harbour and we had champagne and I made some excitable phone calls to my parents.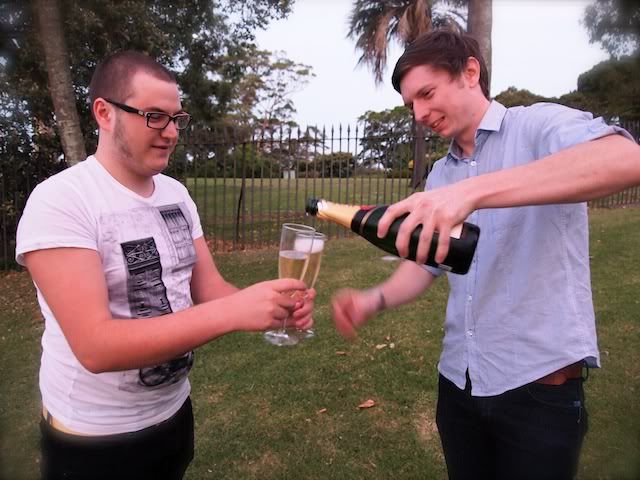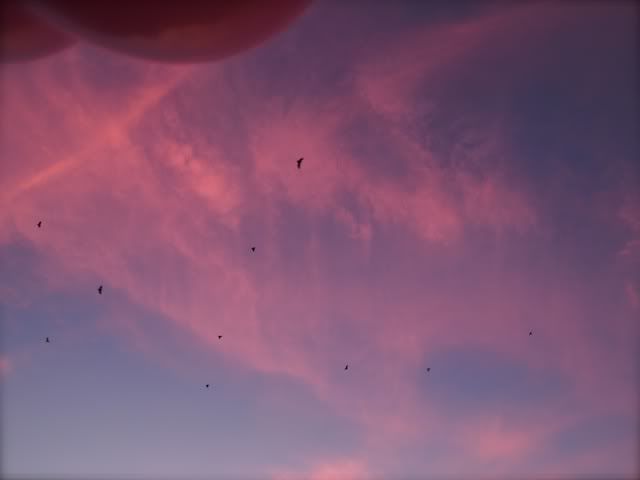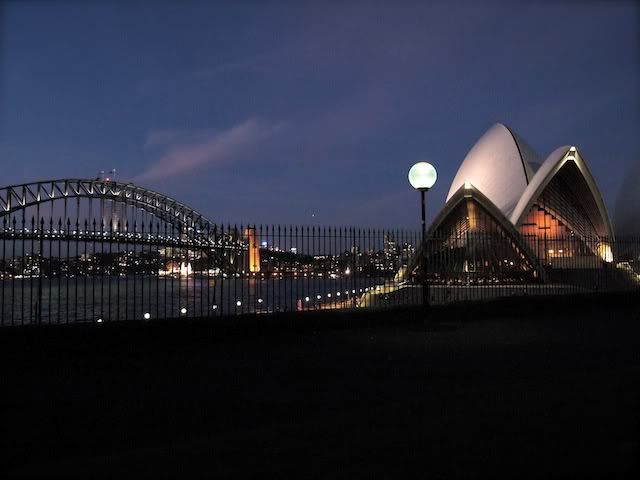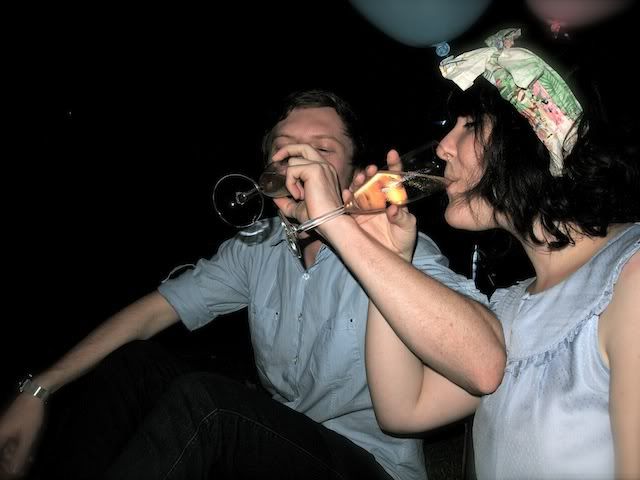 The sky was the same colour as my balloons, there were bats, we could hear a band playing Moon River and various Van Morrison songs, and we drank champagne that Joshua had been saving for a 'special occasion'. We even managed to coordinate outfits with each other and the evening sky. As we were walking back through Circular Quay a lovely German man put his hand on my shoulder from behind and congratulated us. "We saw the whole thing from the Opera House, and I tell you, there was a tear in every eye - look, I still have my napkin which I used as a tissue. So beautiful!"
I feel so blessed to have someone as amazing as Joshua as my husband-to-be. He keeps telling me little bits and pieces from all of his planning for the night he proposed - like not being able to eat or sleep the night before because he was so nervous, the teeny cardboard case he made to bring my ring with him safely to the harbour, or the trouble he had printing out such an enormous sign. He called both my parents and asked for their permission to marry me, and managed to keep everything a secret from me for so long! He put so much thought into the whole affair, right down to the tiniest details like ensuring the champagne glasses were glass and not plastic because "You can't drink Moet from plastic cups!"
So that's that! We're getting hitched and we are positively thrilled!