The Procrastination Celebration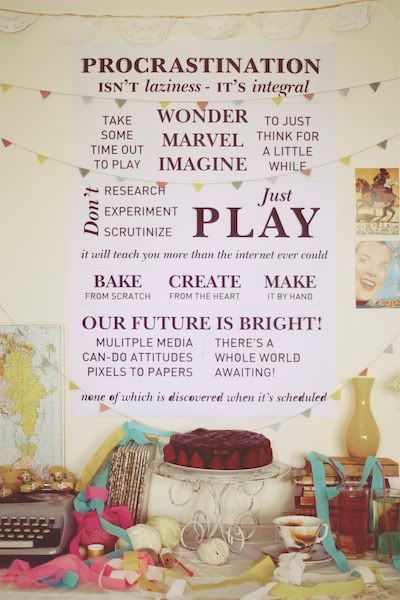 I had originally put the whole 'Contexts of Visual Communication' subject down to just fostering design-wankers, but once I stopped being one of those arrogant sorts and just got on with it, things were a little better. Self reflection is a funny thing.
This last project was to write a personal manifesto. A call to arms, a projection of design futures, our aspirations. Pretty much whatever we wanted as long as we 'felt it'.
Lots of the original drafts from others were full of sweeping statements about 'the man' and design being all there is to life. I found it really refreshing to be able to speak enthusiastically about all the other things not really related to that - those procrastinating things we do when we're meant to be doing something else and how it can really improve the creative process.
We have to submit an A2 poster today. I'm handing in the above image wrapped in streamers. Party on.