August Snapshots
I'm currently in a 'I think I might have bitten off more than I can chew' sort of month. I've taken on a really big commission that I'm working my way through, as well as trying to get a few of my own projects completed to they can be in the pipeline for later this year. It's a never-ending battle! Our poor old blog has definitely fallen by the wayside, but I find these monthly snapshots to be a good way to check-in and remind myself of everything that got finished in a month. So here we go: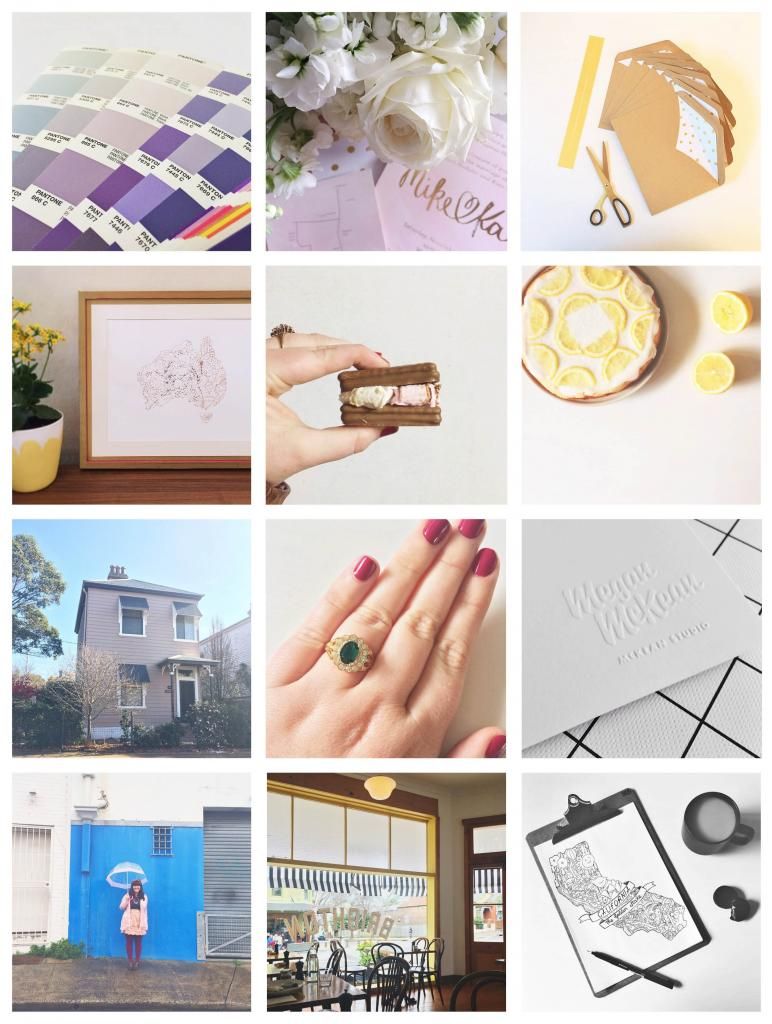 + Colour selection for something new to McKean Studio, coming this week. I usually dig my heels in about using purple, but this time in particular it needed a certain shade of violet.
+ I worked on a custom wedding suite for a lovely bride-to-be in Melbourne. There was watercolour, gold foil, and polka dots - so you know it's going to be good. I hand spotted metres on metres of paper, to get the envelope liners just right. The finished product was really beautiful (worth the hours!) and is hopefully brightening up mailboxes as I type!
+ A new limited edition foil print made it into the shop: 'Australia Love' in Rose Gold Foil! I was being inundated with requests for other cities in the range, so thought an all-inclusive country design might be the better way to go.
+ An annual S'mores Party with our friends Kelly and Trev. It's our little 'end of winter' tradition that each year gets more intense and inventive with the sugary treats. This year saw TimTams roasted on the fire, and even Cronuts. It was a shaky evening coming down from all the sugar.
+ Our friend Rowan was visiting from London, so I put in minimal effort for maximum impact - a '1 cup of everything' coconut cake with lemon icing. Delicious!
+ A trip home to the Hunter to see my mum's new house and new neighbourhood. We spent a little while exploring the new streets and wandering around.
+ My engagement ring suffered a fate worse than death this month, and I'm incredibly sad about it but trying to remind myself that it's only a material possession at the end of the day. I lost a baguette diamond, and when I took it in for repair, was told that there is all sorts of structural damage that can't really be fixed. The best solution is to start again and redesign it using the same stones, but a $3,000 experiment isn't really something our bank balance has room for at the moment. I bought a sweet 1970's emerald from Etsy which is being a handy placeholder until we strike it rich and can do something with my original stones. Sheesh!
+ With all these prints we've been adding to McKean Studio lately, I decided a custom embosser was justified for the business. Now instead of signing each print, I stamp away with our logos and number the bottom. So much fun!
+ A rainy couple of weeks in Sydney saw one post-office run turn my umbrella inside out and leave me totally drenched, halfway from home. Not very fun. I DIY-ed a $5 umbrella with some gold polka dots, and invested in a raincoat. No more getting caught in torrential rain for me!
+ A breakfast date last week to Brighton The Corner in Petersham. The food was pretty good, the coffee was average, and the service was super slow, but I think it was one of my favourite dates with Joshua in a long time. Full of good conversation and future plans, and no rush for timing to be somewhere else. It was lovely (and it is a very cute cafe for a visit).
+ More new prints! California, the Golden State! One of my favourite states we've visited repeatedly in the USA, currently being printed in Gold Foil. Should be ready in a few more days!