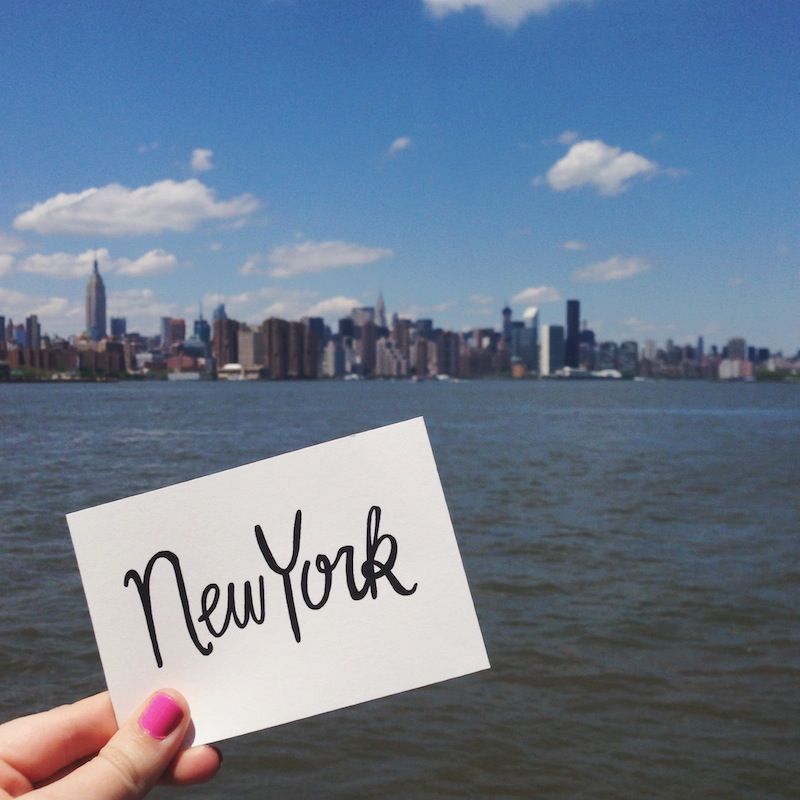 New York, New York! So nice, we had to visit it twice. I'm finally catching up on the blog posts I usually write when we travel, there are two cities to go from our latest trip to the USA, so here's NYC! Better late than never. Figured I'd better get it up in blog form before I forget the details!
We arrived into JFK on a Friday afternoon. We stayed near Grand Central Station, on the far east side of Manhattan. It was rainy and cold, but we were starving (and back in NYC) so we got straight to the leg stretching and worked our way to Midtown. Our hotel was conveniently located a block south of a super tasty 99c pizza place, and in hindsite, the amount of times we visited over our very short stay is kind of ridiculous. You can't beat New York pizza though, so we were happy to give up some finer dining options in the name of carbs.
A bright and early start the following morning had us on the subway to lower Manhattan, right to the edge of the Brooklyn Bridge. We hadn't spent much time in Brooklyn on our first trip to NYC on our honeymoon in 2012, so we made sure to dedicate a full day exploring as much as we could. The walk across the bridge is a lovely one, with the skyline behind you and water either side, with Brooklyn waiting for you at the end.
I severely underestimated our distances on this particular day, and got some directions all sorts of wrong. We headed to The Brooklyn Flea, a famous flea market that takes place on weekends. A strange walk through a sketchier part of town, as well as some busy roads that weren't really pedestrian friendly, and a struggle with the map to make sense of where we were. We eventually made it to The Flea, spurred along by the flow of people headed to the same place. Thank goodness for crowd sourcing! The best treasures are always the ones too big to take home (mid century furniture and cool metal letters that had no chance of getting in our carry on), but we snapped up a couple of vintage brooches for my mum and some friends. A doughnut for the road and we headed along. A couple of different stores that I'd been looking forward to visiting were ticked off my list, including Catbird and Baggu. Miles and miles of streetwalking, and finding ourselves at Smorgasburg, a food festival run by the same people who manage The Flea.
I was fortunate enough to celebrate a birthday while we were in New York! Turning 24 in The Big Apple was something I wanted to do since my previous birthday - it took 8 months of convincing Joshua, but was worth it in the end. We celebrated with quintessential NY activites; cupcakes from Magnolia Bakery, a walk along the High Line, some bauble shopping at Kate Spade (hello, fancy new watch!), walking through Central Park, and my favourite birthday tradition of adding in a Schleich plastic animal to my collection. Pizza for dinner (of course) and a sunset view behind the Empire State building from our hotel window. No better place to have a birthday!